Parenting is crazy, isnt' it!? Join us for the fun and challenges of raising our little ones. Aka "Pickles."
Monday, April 21, 2008
Posted by

Angie
at 4:16 PM
No comments:
Links to this post

Katen has been smiling since about 2 mos, but now she's
started laughing as well. She'll only laugh at Daddy because
he's funnier. With Mommy it's all business I guess.  We've
tried to capture these cute little belly laughs on video but
Katen has some stage fright. The same thing happened with
her three month pictures. She smiled and talked up a storm
all morning. Then when it was time for pictures… nothing. We
made great fools out of ourselves trying to encourage a smile,
but in the end we weren't amusing. So, three month pictures
will go down in the record books with "the serious face."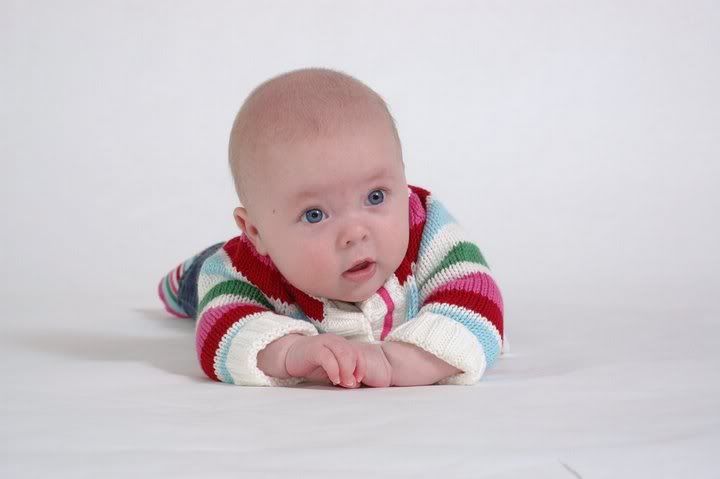 Posted by

Angie
at 2:03 PM
No comments:
Links to this post

Sunday, April 20, 2008
Katen is going through a major growth spurt. Overnight she grew legs! However, this growth spurt is interrupting her sleep because she's hungrier now. We're back to waking between 12:30 - 1:30 and again between 3:30 - 4:30 and every hour to two hours after that. Ug! Mommy got so spoiled. We have increased her bottle from 3 oz to 4 oz now and that seems to be keeping her more satisfied but not enough to sleep through the night again.
Posted by

Angie
at 1:14 PM
No comments:
Links to this post

Blog Archive